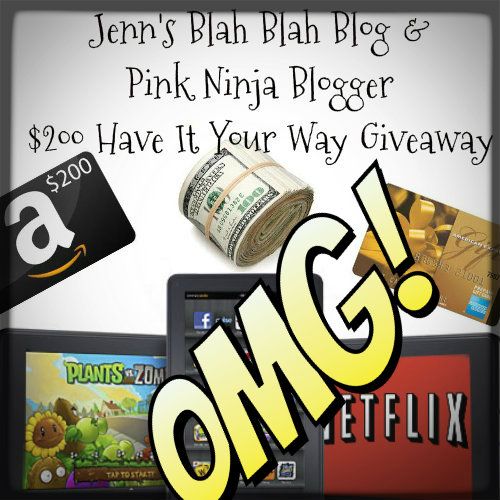 I've decided to get my blog out there more by participating in more multi-blog giveaways. This just gives you guys MORE chances to win prizes and helps me get more readers. Win/win! If you'd like to get your blog on this blogger giveaway too, read the following information:
Jenn's Blah Blah Blog, Pink Ninja Media and Happy Home and Family bring you a fabulous FREE Blogger Opportunity!
One lucky winner will recieve $200 prize of their choice. Kindles, Gift Cards, Toys, Cash, Anything They WANT up to $200! If they want it, and win this giveaway we will get it for them. (we are looking at adding 2 more winners, which will receive the same prize, just different amount. We are trying to work out all the details now.)
Bloggers get One FREE Link, additional links will be $3, co-host spots available
Giveaway will begin on February 15, 2013 and run an entire month.
SIGN UP FOR THIS FABULOUS FREE BLOGGER OPPORTUNITY
Pin It